Back to Blogs
​LinkedIn is one of the most popular platforms in the world for business professionals to connect, network, share learnings and knowledge.
And, of course, to get notified about potential new job opportunities.
However, not all jobs get advertised.
When it comes to job hunting, it's often a case of "it's who you know that counts."
Connecting with and building relationships with headhunters like me isn't something you should only be considering when you're looking to leave your current job. It can also be a great opportunity to expand your professional network for future opportunities and to get advice and knowledge about the market, salary benchmarking, skills in demand and much more.
So, if you want to be aware of the best opportunities out there, you'll need be sure that your LinkedIn profile is optimized so you can be found by headhunters and hiring managers.

How to optimize your LinkedIn profile to get discovered by headhunters and hiring managers

As part of my job, I spend a LOT of time on LinkedIn headhunting the very best talent in Legal Marketing, Business Development & Communications.
I wanted to share my insights into how we, as headhunters, use the platform and what you can do to ensure you get discovered for top job opportunities within Legal Business Development, Marketing & Communications.
​
1. Update your industry settings to 'Law Practice' or 'Legal Services'
When you first set up your LinkedIn profile or as you move to a new role or firm, there is one setting that so many people forget to adjust and in the legal sector I feel this is greatly overlooked: the industry setting.
How to update your industry settings:
Press the edit icon at the top of your profile.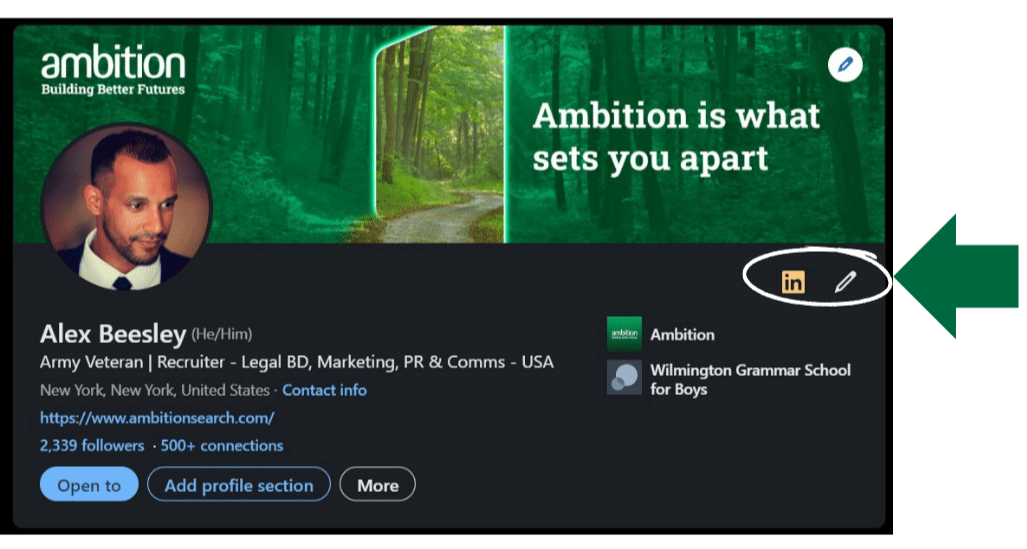 ​
​Change your Industry to either Law Practice or Legal Services: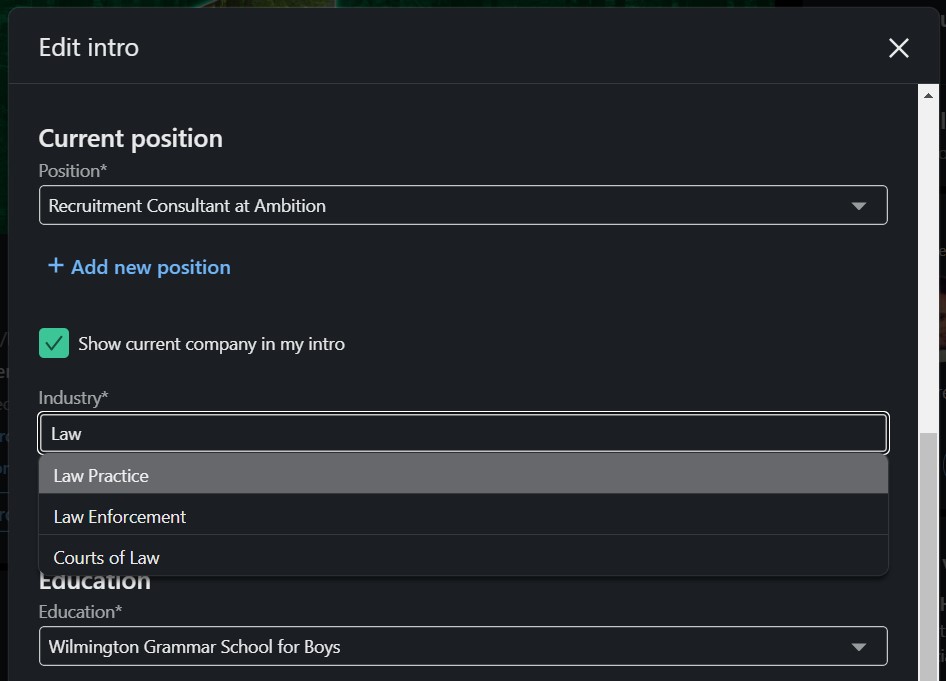 In the legal sector in particular, previous law firm experience is often a top priority, so hiring managers and headhunters will often run a basic search of, for example, a Business Development Manager in Legal Services/Law Practice.
Simply changing this setting gives you a much higher chance of being found.

2. Keep your LinkedIn profile up to date
​LinkedIn is an extension of your resume so keeping your profile updated in line with recent promotions and professional skills acquired is key.
It's also a great way to track your personal and professional development with your friends, colleagues and peers.
​
3. Use key words to describe your experience in detail
Specifying what sector you are in like Corporate, Litigation, PR or Events helps us as headhunterS identify what exact skills you have within the vast array of business development.
For example, just having;
'Business Development and Marketing Manager'
is okay, but specifying;
'Private Equity & Capital Markets for the past 2/3yrs and worked within the Global reach team'
is immensely informative, aiding others to know what you would like next and how you would fit in to a potential new role.
​
4. Fill in the gaps in your experience
You may have had a career break, been made redundant or had time out of work. That's totally fine. But employers will likely be curious as to why there are gaps in your resume.
It's always better to put down a reason (even 'career break' is fine) as employers will probably ask you about it otherwise.
That way, you can focus on the really important things such as what your motivations are, why you're a good fit for the role and so on.
​
5. Once you've connected with a headhunter, ask them for advice!
I was always told in my previous life in the military, "there's no stupid question" (that's until your Sergeant asks you something they told you yesterday, but you didn't' write it down, so he shouts at you and gives you press ups until your arms fall off!)
Fortunately, I've learned not to be like that, instead I am a firm believer that knowledge is key. If you're not sure about anything professionally, be it skills in demand, how much you should be paid or industry trends then the best way to find out may not be through 'Google'.
As specialist recruiters for Legal BD, Marketing & Communications, my colleagues and I speak to BDM professionals and law firm hiring managers on a daily basis. It's our job to know the market and how best to connect people with their next ideal role. If you have any questions, do make use of us!
​
I hope this has been useful.
If you have any questions about the market or if you're looking to hire for your team, I'd welcome the opportunity to open a dialogue, so don't hesitate to reach out!